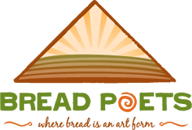 franchise application process
Thanks for checking us out and if everything you've heard so far sounds too good to be true, then by all means….fill out an application today!
Confidential Franchise Application.pdf
You can mail the application to:
Jon Lee
Bread Poets
106 E. Thayer Ave.
Bismarck, ND 58503

As soon as we receive your application in the mail, we will send you an email confirmation. Any questions can be directed to jon@breadpoets.com.
Note: None of the communications made through this web page should be construed as an offer to sell any Bread Poets franchises in, nor is any such communication directed to, the residents of any jurisdiction requiring registration of the franchise before it is offered and sold in that jurisdiction. Bread Poets franchises will not be sold to any resident of such jurisdiction until the offering has been exempted from the requirements of, or duly registered in and declared effective by, such jurisdiction and the required Uniform Franchise Disclosure Document (if any) has been delivered to the prospective franchisee before the sale in compliance with applicable law. If you have any questions concerning the registration status of franchises in your jurisdiction, please contact our Franchise Development department.

States in which we are not currently registered and cannot discuss the opportunity with any residents of that state: CA, HI, IL, IN, MD, MI, MN, ND, NY, RI, SD, VA, WA, WI
What are we looking for in a good franchise candidate?
What is your initial investment?
What are the demographics for a Bread Poets franchise?
What are the franchise fees and royalties?
For more info contact:
Jon Lee
e-mail: jon@breadpoets.com
phone: 701-751-POET