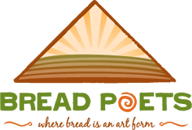 franchise fees and royalties
After you have been selected and we receive the first franchise fee installment ($18K) we provide assistance in site selection, store layout, equipment and inventory requirements. Our ongoing royalty fee is 3% of gross sales. You are loaned a comprehensive and confidential Operations Manual. You will be required to attend a week of training at our Bismarck bakery and we will send out a trainer to be on site at your location one day before opening and through the opening week.

Unfortunately, we cannot make predictions or guarantees as to your level of success as a Bread Poets franchisee. In short, we cannot tell you how much money you will make the first year, second year or any other year. The variables in any small business are dynamic and ever changing. However, if you have the passion and determination to make a go of a small business we can give you the proven tools to have every chance at success owning your own Bread Poets.
What are we looking for in a good franchise candidate?
What is your initial investment?
What are the demographics for a Bread Poets franchise?
For more info contact:
Jon Lee
e-mail: jon@breadpoets.com
phone: 701-751-POET