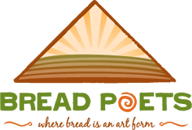 initial investment
We project the initial investment for a Bread Poets to be between $166,000 and $259,000. This figure could come in slightly lower or significantly higher depending on a number of variables such as the mix of used and new equipment, leasehold improvements and the amount of work you do yourself on getting the bakery open.
What are we looking for in a good franchise candidate?
What are the demographics for a Bread Poets franchise?
What are the franchise fees and royalties?
For more info contact:
Jon Lee
e-mail: jon@breadpoets.com
phone: 701-751-POET