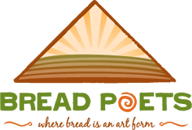 about our bread
Hot fresh bread
Bread Poets only sells the freshest bread. All breads are sold within 30 hours of being pulled from the oven so you are guaranteed a fresh loaf every time! We do not sell "day old" breads. All breads left after 30 hours are donated to local homeless shelters.

Quality and simplicity is our secret
Shhhhhhhhhh...actually, there is no secret at all! We use the finest and freshest quality ingredients in all of our products. Our basic breads contain no oils. We mainly use wheat, water, yeast, milk, butter, salt and a sweetener (either honey and/or corn syrup).

Stone ground wheat
We grind our own wheat daily in our own Stone Burr Mill. This process ensures the absolute freshest product possible. We use only high protein northern great plains wheat, only from North Dakota. In bread baking circles, wheat from this region is considered to be the best in the world! We think you'll taste why.

USDA Food Guide Pyramid
The USDA recommends 6-11 servings per day from the bread/cereal group as part of a total diet. Since our bread is so heavy and dense, slice for slice you are actually getting those servings twice as fast. We are proud to offer such a high quality product that is so important in a balanced diet. So proud in fact that, you can see the pyramid is the center of our logo.

An affordable luxury
We are committed to making a premium product and selling it at a fair price. We mill our own flour and hand-knead our bread. While this process results in higher labor, it also results in a much higher quality product; product that we are very proud of. Truth is, we wouldn't have it any other way. Pound for pound, we feel you'll find our bread is priced competitively with breads of a lesser quality.


For a complete list of all Bread Poets products, click here.