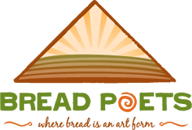 Breads
Alpine White
A "traditional" square loaf that is less dense and not as sweet as our other breads. It's the kind grandma used to make.

Bavarian Rye
A hearty, dark European rye bread. This bread has an old world taste that compliments any soup and makes tasty sandwiches.



Brownie Bread
A chocolate lovers dream. This rich chocolate sweet bread is loaded with cocoa and chocolate chips - a wonderful treat!



Challah
A wonderful egg bread made in the traditional braid. This unique bread is great for gifts, the holidays or whenever you want a loaf to dress up your dinner table! But it's not just for looks - the taste is impeccable!



Cheddar Cornbread
A heavy yellow cornbread made with cornmeal and featuring hunks of cheddar cheese. Great with chili and Mexican dishes.


Cheddar Garlic
It's so cheesy to fall in love! Chunks of Green Bay sharp cheddar cheese ooze out of this loaf - perfect with any Italian meal!



Cheddar 'N Chive Potato
A delicious soft potato bread that melts in your mouth. Each loaf is loaded with chunks of cheddar and complimented with a touch of chive. Wonderful with soups!



Cherry Cream
A Great White based bread that's loaded with dried Michigan cherries! Don't let the name deceive you - we use nonfat dry milk to give this bread it's creamy taste! It's hard to believe there's no fats or oils in this one!



Cinnamon Log
A Bread Poets customer favorite, the cinnamon log has a caramel filling rolled between layers our Great White bread. Great for breakfast, french toast or served with coffee. An everyday bread at Bread Poets.



Cranberry White
A Great White based bread that's loaded with dried cranberries! It's a very festive taste. It's hard to believe there's no fats or oils in this one!



Cranberry Orange
Zest of orange combined with dried cranberries give this bread a unique and inviting flavor. Perfect to "wow" your guests - they've never had anything like it! No fats or oils!


Dakota Seed
A mix of poppy, sesame and sunflower seeds gives this bread a crunchy, well-rounded flavor!



Farm House Hearth
Our basic hearth bread, the Farm House Hearth is a white flour based baguette. This loaf a European-style hard crust bread. No fats, oils or dairy!



Poets White
A moist and chewy white bread made from unbleached North Dakota white flour. Kid's of all ages (3-103) love it! An everyday bread at BPBC. No fats or oils!



Poets Wheat
Our best selling bread! The freshly milled whole wheat flour gives this bread a nutty flavor with just the right amount of North Dakota Honey to blend in some sweetness! A high fiber bread with no fats or oils, it will satisfy the most health conscious consumer without sacrificing an ounce of flavor! An everyday bread at BPBC.



Irish Soda Bread
A quick-bread made famous by the Irish. This loaf is filled with lots of juicy golden raisins. Great as a desert bread and with coffee.


Jack 'N Dill
A delicious soft and chewy bread that melts in your mouth. For an added twist, there's the tang of vinegar, a touch of dill and lots of Monterey Jack cheese.


Lemon Burst
A sweet bread that's bursting at the seams with lemon flavor. The poppy seeds add a classic flavor combination to this bread!



Multi-Grain
This ain't no wimpy seven or nine grain bread. It's a full flavored twelve grain bread with a taste that'll knock your socks off! Very high in fiber - it'll put the roughage back in your diet! No fats or oils!



Parmesan Peppercorn
A European baguette style loaf with a hard crust and kick of pepper. Delicious with soups or serve as an open-faced sandwich.



Pecan Log
A caramel filling packed with pecans and rolled between layers of our Great White bread. "In a nutshell," it's our cinnamon log gone nuts! Great for breakfast, served with coffee or just for snackin'!



Pesto Tomato Hearth
A unique blend of Italian herbs and sun dried tomatoes make this bread sensational.



Pickled Rye
Dill weed "pickles" this rye with a light onion flavor. A great sandwich bread that's perfect for cold cuts and divine with hamburgers. Hollow out a loaf and fill it with dip for parties or special occasions! No fats or oils.



Pizza Log
Our Great White bread rolled up with our special pizza sauce and loaded with lotza pepperoni, mozzarella and cheddar cheese! It's a crowd pleaser!



Pumpernickel Rye
A dark, robust rye with a hint of coffee and caraway! No fats or oils.


Raisin Cinnamon Walnut
A wheat bread loaded with plump, juicy raisins, hearty walnuts and swirled with cinnamon!


Sour Cream Pecan
A delightful dessert bread, this treat is perfect with coffee. It's sweet, it's crunchy, it's sinful . . . packed with pecans and topped with a crispy brown sugar topping.



Sourdough Hearth
A tangy rye sour gives this bread its zest. Great right out of the bag or toasted.



Southern Cheddar Cornbread
A heavy cornbread made with cornmeal, also featuring hunks of cheddar cheese. To add a little pizzazz, a touch of jalapeno makes this loaf a hot item!


Spinach-eese
A favorite of Popeye and many other Bread Poets customers, the Spinach-eese has just enough spinach and Monterey Jack cheese to pump you up!


Stars & Stripes
Our Great White bread with the incredible combination of dried blueberries and cherries. It's red, white and blue to the bone!



Strawberry Delight
A summertime favorite. This sweet bread has a bunch of fresh strawberries that'll make you scream for more!



Sunflower Wheat
Our wheat bread loaded with sunflower seeds and a touch of golden North Dakota honey!