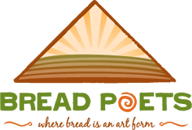 meet the owners
Jon, Juanita, Jayce, Jessa & Jamison Lee
After his career kept taking him away from Bismarck, Jon made a conscious decision to try and get back to North Dakota.

"I simply wanted to do something fulfilling in a place that I truly love! I chose to locate this business in Bismarck-Mandan because it's my hometown. I can't think of anything more exciting than sharing the best bread in the world with the community I grew up in!"

Juanita, a native of Flasher, ND, joined her husband and the bakery staff full time in January 2000. Today, Juanita works behind the scenes in the bakery's advertising and marketing department. She maintains the website, creates promotional materials and is mom to three mini Bread Poets!

"It gives me great pride to be part of an industry that supports one of North Dakota's greatest assets...our farmers. I was born and raised in rural North Dakota and it's such a joy to share the personal touches of a small town business with this community and those who visit Bismarck."

Jayce was known as the original "Baby Bread Poet" upon his arrival in 2000. Though not a baker quite yet, Jayce can make a mean PB&J sandwich. He has since been re-named "Bread Poet, Jr."
We are pretty sure that nobody could look more precious in a miniature baker's hat and apron than our "Bread Po-ette" Jessa. And our "Baby Bread Poet" Jamison, was born in 2008. Until they are ready, or more like when Mom and Dad are ready, the Bread Poet children will just enjoy all the bakery action from the other side of the counter and out of the flour!

Together the Lee family will celebrate 20 years of Bread Poets in September 2018!
photo by All That Sparkles Photography